Abel Environmental Services have added a second Mitsubishi Ecodan ASHP system to another rentable flat, as the clients were that impressed with the annual running costs of the first one!
The below screenshot taken directly from the Mel Cloud online control system shows the annual run cost of the first installation. As you can see from the graph this system consumed 2543kWh equating to around £330.59 per annum.
This 2nd Ecodan system replaced an old oil combi boiler system. We therefore installed a 200 litre hot water cylinder to provide hot showers and space heating was providing by tapping into the existing underfloor heating system.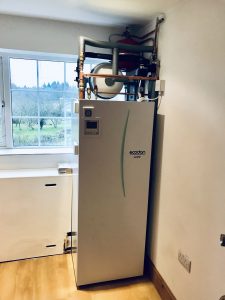 Find out more about Mitsubishi Ecodan heat pumps for homes here or for more information on renewable energy heating products please get in touch.