Which? produced a simple guide to Solar PV, from which we have pulled some of the key topics to consider when deciding if a Solar PV system is suitable for you.
The full report is available here:
http://www.which.co.uk/reviews/solar-panels/article/how-to-buy-solar-panels/solar-pv-installation
So, is solar PV suitable for my home and me?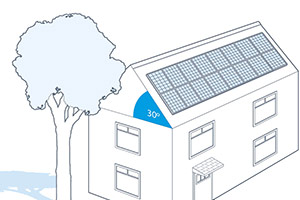 Generally speaking Solar PV panels are certainly worth considering if you have a mainly south-facing roof with little or no shade and you're not thinking of moving home in the near future.
Maximum power output from solar panels will be achieved for a south-facing roof with a tilt angle of between 30 degrees and no shade. Solar PV panels are worth considering if you have a mainly south-facing roof with little or no shade, and you aren't thinking of moving house in the near future.
Although a south-facing roof would yield the best power output, a south-west or south-east-facing roof should also be fine – but you'd get less power out of the system. How much energy you could produce with solar panels – and therefore how much money you could make – will depend on:
the tilt angle of your roof and its orientation, even if you are unable achieve the 30/45 degree tilt with the correct panels a well-designed system, even a less than perfect roof can produce excellent results
where you live: the south-west gets more sun than the north. This could impact the amount of electricity your system will generate, although not too significantly.
Solar panel orientation
The Met Office website has useful solar radiation maps. The higher the radiation figure, the more electricity your PV system will produce. The table below shows the percentage of the maximum output you will get from a solar PV system, depending on your roof orientation (south, west, east) and tilt angle (source: the Energy Saving Trust).
Most roofs in the UK are angled at between 30 degrees and 45 degrees. Solar PV panels are not recommended for roofs that face north. You should also consider both the age of your roof and how strong it is, as PV panels are heavy.
Solar PV systems are most efficient if you use the electricity they produce during the day. So if you work all day leaving your home empty, you may not reap the full benefits of your solar panels. Shade could be a big problem for solar panels, so no panels should be installed where there is shade from trees, chimneys, walls or other obstructions.
What size of solar PV system is right for my home?
The right size for your home will mainly depend on the roof space available and how much electricity you use. We recommend that you do not buy too large a system as you cannot meet 100% of your demand with solar PV.
Make sure the surveyor understands your electricity use so that the system is sized correctly. As a guide, an average 4kWp system would cost about £6,000 to £9,000.
Before you install solar PV, read our tips and advice on what you should do, and the questions you need to ask before, during and after a visit from a solar PV installer, on the Which? downloadable and printable solar PV installation checklist: http://www.which.co.uk/documents/pdf/solar-pv-checklist-pdf-269629.pdf
Do I need planning permission for solar PV?
Contact your council to see whether you need to apply for planning permission for your solar panel. You won't need planning permission for most domestic solar panels, as long as they respect certain size criteria, but exceptions apply for listed buildings, buildings in conservation areas and world heritage sites.
Are there any maintenance or ongoing costs to consider?
Solar PV systems are relatively simple and have no moving parts, so they don't need much maintenance. However, within 25 years you'll need to replace the inverter.
Although the panels are self-cleaning when installed on an ideal roof slope, it is a good idea to have the solar panels cleaned occasionally. How often you clean them will depend on the slope of your roof and on how much dirt, such as bird droppings and leaves, they accumulate.
Read More About Solar pV